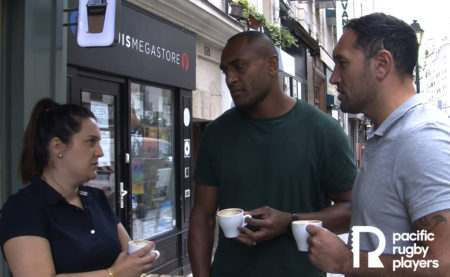 Former All Black Joe Rokocoko has joined the Pacific Rugby Players association (PRP) in a pivotal role supporting Pacific Island rugby players based in France.
Rokocoko has joined PRP as a Player Relationship Manager – a role that manages the welfare of Pacific Islanders playing rugby in clubs and competitions throughout Europe. As well as assisting players adjust to life in France, Rokocoko's role will see him strengthen connections with the services and education available through PRP. He will work alongside other new PRP recruits, Marion Salvaudon (France) and Junior Fatialofa (England), to help players establish successful careers away from rugby while navigating the many issues that arise while living and playing abroad.
Rokocoko relocated to France in 2011 to play for Aviron Bayonnais before moving to Racing 92 in 2015. He will fulfill his role as Player Relationship Manager in a part-time basis outside of his rugby commitments to Racing 92.
Pacific Rugby Players CEO Aayden Clarke says Rokocoko's appointment is a coup for the many Pacific players residing in France and for the global PRP team.
"The support of a Player Relationship Manager offers massive benefits for both current and future players," he says. "To welcome Joe to our team is a huge win; he's a proud Pacific Islander and Fijian with huge experience in the professional game – not only with the All Blacks but playing professionally in France.
"He has vast experience to pass on and for a long time he's been helping Pacific Island players arriving in France out of the goodness of his heart; now he has the deeper resource of our organisation behind him."
Rokocoko says he's excited to have the opportunity to contribute back to Pacific Island rugby by supporting those entering the French rugby scene for the first time.
"My family and I know first-hand the challenges and opportunities that arise when you arrive in a new country to play rugby professionally," he says. "It's a privilege to pass on knowledge and learnings gathered in my many years being in France and in rugby environments."
"The Pacific Rugby Players team have provided outstanding support for our players across the world for many years, so it's an honour to be a part of the organisation. Marion has considerable experience in French rugby circles alongside huge passion for the Pacific Islands, so we'll make a great team".
Over 400 Pacific Island rugby players are currently based in France and supported by PRP.
Clarke says the support of Player Relationship Managers ensures the new lives and careers families and players build overseas "get off to the best start possible".
"Each year we have a steady stream of players direct from the Pacific Islands or via New Zealand heading to play professionally in Europe," he says. "Joe and his fellow Player Relationship Managers all understand the challenges and pressures players face overseas and are committed to ensuring we help as many as possible reach their very best potential in life and rugby. Their backing helps avoid many of the issues that have occurred in the past through lack of meaningful support."
PRP has supported many rugby players both in the Pacific and overseas since its inception in 2013. As well as being the official representative of the players of Fiji, Tonga and Samoa in contractual and legal issues, the organisation offers a comprehensive education programme in the Pacific Islands to prepare players for life overseas and in professional rugby.
Clarke says while the theoretical preparation goes a long way in helping players adjust to their new surroundings, having a quality support person and resourced programme on the ground in Europe is "unparalleled".